Alyson Stoffer, Director of Development, TLC and President, AFP Triangle
Eight months ago, I became a new director of development. The timing was great. I had a month and a half under my belt at the beginning of a pandemic where the next days and months were certain and manageable. Just in time to start putting together my first budget, inclusive of what to do about our organization's largest source of philanthropic dollars: in-person events. Everything was fine.
By now you've detected the sarcasm and, well, this year has been described in many not-so-suitable words – but I'll just say, one we will never forget.
As I wind down on my first few months as director of development at TLC and last few weeks as president of AFP Triangle, instead of looking back, I thought I'd share what's ahead based on what I've learned this year and what I'm seeing and experiencing in the field.
More development teams will choose to outsource where they can. Depending on your operation, that may mean working with a mail house for your appeals, marketing firm for your external outreach, and nonprofit consulting firms for interim or permanent staffing solutions.
Staff and key stakeholders will rely more on collaborative and project management tools like Microsoft 365 and Teams, Google, Calendly, Asana, etc. This may take some time to adapt, learn, and implement but in the long run will be worth it for everyone involved and save more time than you realize.
For organizations who have traditionally relied on in-person events and sponsorships, there will be a continued shift for those cultures and strategies to strengthen individual major donor giving and corporate partnership.
Funders will have increased expectations and demand for organizations to measure and produce outcomes. This is already being seen in healthcare organizations and from funders focused on equity.
Funders will hold organizations accountable to their equitable practices. Organizations will work with DEI/IDEA experts to evaluate and transform their practices.
Peer-to-peer fundraising, crowdfunding, Giving Tuesday, and giving days/months are still popular practices. The newest trending practices include round-up programs and gaming fundraisers.
Everyone who is part of nonprofit development (staff, board members, community partners, executives) will be expected to be more engaged and better trained in fundraising practices and operations.
There will be enhanced support of our local nonprofit, social enterprise, and small business ecosystem through strategic collaboration, partnership, and internal operations. More and more financial decisions and practices will be made that support the greater good.
While the year isn't over yet, it's getting close, and I know we're all very excited about saying goodbye to 2020. In these last few weeks of this year, my wish for you, the nonprofit community, is to take a step back and give yourself, your team, your organization, and your donors what is needed to process, reboot, and move forward.
You're going to be doing everything you can to ensure a successful year end, whatever that means for your operation right now. Consider adding yourself to that list by investing in your own professional development at the North Carolina Center for Nonprofits' annual Conference for NC Nonprofits. The Center thoughtfully put together a comprehensive virtual and interactive experience that's respectful of your limited time and energy.
At the 2020 Conference, AFP Triangle partnered with the Center on two fundraising sessions (The Art of the Legacy Ask and Storytelling: Communicating Your Mission with Infectious Passion) in addition to the broad spectrum of sessions offered representing relevant topics that meet the needs of all backgrounds and roles in your nonprofit organization.
What I'm most excited about is the opportunity to come together across sectors, geography, and responsibilities for the benefit of our missions and greater community and ecosystem. This has been a dream for AFP Triangle for the past few years and thanks to the Center team and commitment to our sector – this vision is finally a reality.
Both AFP Triangle and the North Carolina Center for Nonprofits have shown through this partnership our commitment to taking what we've learned along the way to bridge gaps, dream up new ideas, work together, and look ahead. This is what we can expect in 2021, and I look forward to seeing you at the conference and hearing more about what's ahead for you in the new year.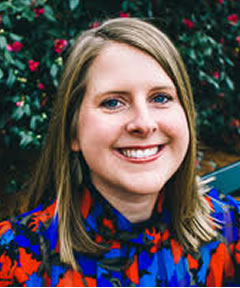 Alyson Stoffer brings together people to invest in ideas, purposes, and practices that resolve our community's greatest challenges. She has been a professional fundraiser for 12+ years in the areas of higher education, education, and healthcare and human services. Alyson lives in Raleigh with her husband Todd, Millie the goldendoodle, and Pearl the cat. She has been a member of the TLC (founded as Tammy Lynn Center) team for 3+ years and has served on the AFP Triangle Board of Directors for almost 5 years.